At the start of the academic year 2020, Orléans School of Art and Design launches a post-master dedicated to the Internet of Things, in the framework of the ÉCOLAB research unit and in partnership with Polytech Orléans.

The graduate students may feel the need to determine their profile with a further year to add new skills, or deepen the knowledge acquired during their initial training. This is possible with the post-master "Internet of Things".

Within our complex digital environment, designers like engineers have to collaborate. In the field connected objects, the success of a project depends on the ability of creatives to imagine the first phases of conception in a comprehensive way and with the diversity of its aspects. It is this vision that students can acquire with the post-master "Internet of Things".

This post-master enables graduates in art and design or engineering to reinforce their education and acquire additional skills; for designers, an approach in electronics, engineering, development; an approach in design and creation for engineers. The hybridation of the acquired skills through such a curriculum brings a true added value to their professional profile.

Depending on their backgrounds, the students can take already existing courses in the pedagogical offer of both institutions. Furthermore, they must carry out a personal project in the field of the "Internet of Things". This project is monitored by a professor from Orléans School of Art and Design and one from Polytech.

Enrolment for the academic year 2020-21: Two students, an engineer and a designer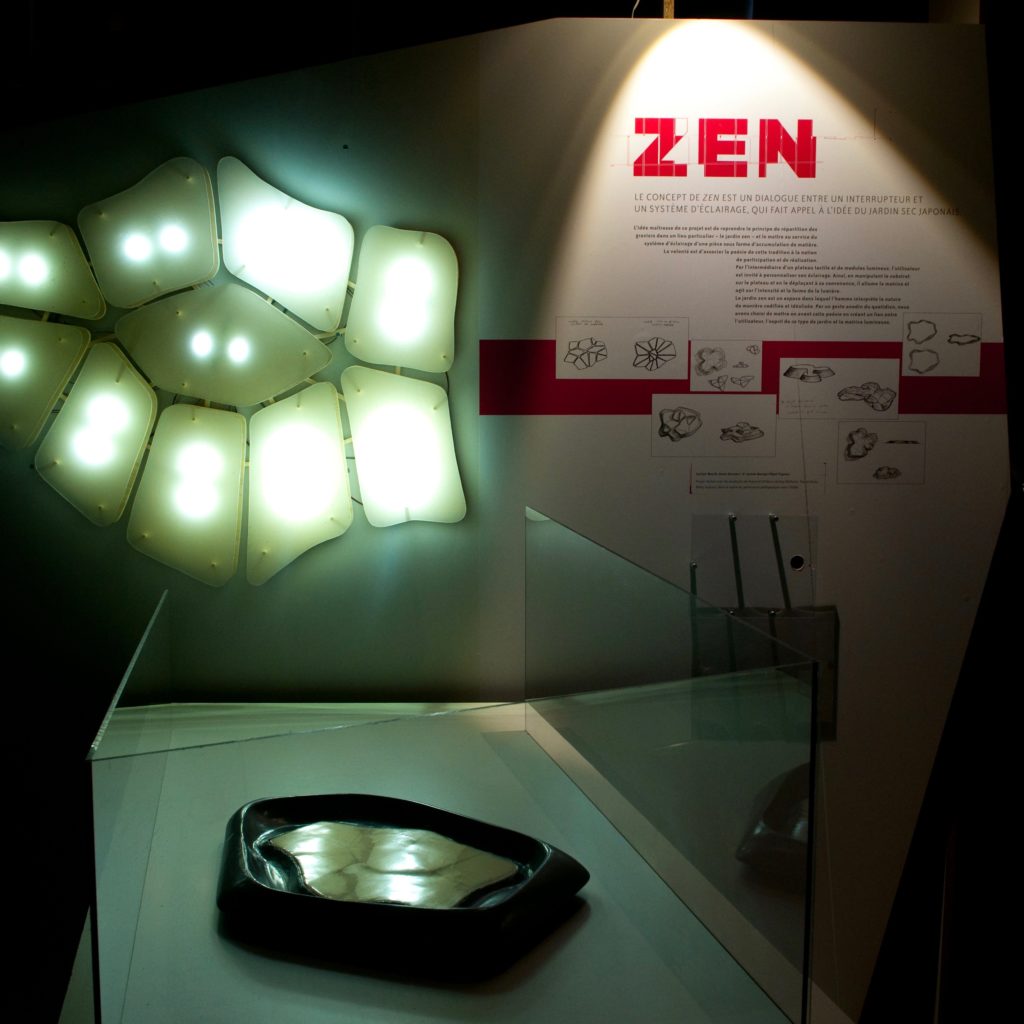 ZEN project by Lucien Bosch and Anne Sevaux (2014)
Course programme
The programme represents 120 hours of actions and/or courses.

Depending on their profile and professional project, students have access to a pool of lessons composing the pedagogical model of both institutions. The building of a student's course programme is devised as an individualised pathway.

Students are integrated into the schools' project teams where they bring their own and acquire new expertise. The young designers join the project teams at Polytech Orléans; while at Orléans School of Art and Design, the young engineers join the project teams from the research in art and design programme "Objects, crafts, and computation" of the MA "Internet of Things".
The Project
The project is set up in pairs (one student engineer with one student designer). It is monitored by teachers. It enables implementing discussion, collaboration, and the apprenticeship of methodological and specific approaches. It gives students the tools necessary for accomplishing long-term projects. This project can be accompanied by an incubator-type organisation. The project is initiated:
by the schools who draft the specifications
by the students themselves
by an external partner from the area (Institution, entreprise).
Assessment
The obtention of the post-graduate degree is subject to carrying out 120 hours of actions and/or training during the calendar year. These hours are broken down according to Orléans School of Art and Design and Polytech Orléans.
Conditions of selection
The post-master 'Internet of Things' is addressed to candidates:
Graduates in art and design, holding a MA or equivalent from in Culture, specialization in Plastic Arts (art, design, communication)
Graduates from engineer schools
Application file
CV detailing training, school of origin and internships
Cover letter (2 pages maximum) explaining the candidate's motivation and interests for the course.
For graduate engineers, a file containing the Master degree project or traineeship reports the candidate has taken part in
A portfolio of projects from the 1st and 2nd cycle and degrees for students graduated in art and design
Complete file to be sent via email to: czahnd@esad-orleans.fr
Calendar
– Call for applications: 13 July 2020
– Deadline for applications: 21 August 2020
– Selection: 24 August 2020
– Start of course: 14 September 2020
Contact
Caroline Zahnd
Coordinator Teacher of the post-master "Internet of Things"
Research in art and design programme director "Objects, Crafts and Computation"
Head of the ÉCOLAB research unit