Orléans School of Art and Design actively participates in the Erasmus+ programme and commits to implementing the fundamental principles stated in the Erasmus Charter which was granted by the European Commission for the 2021–2027 period.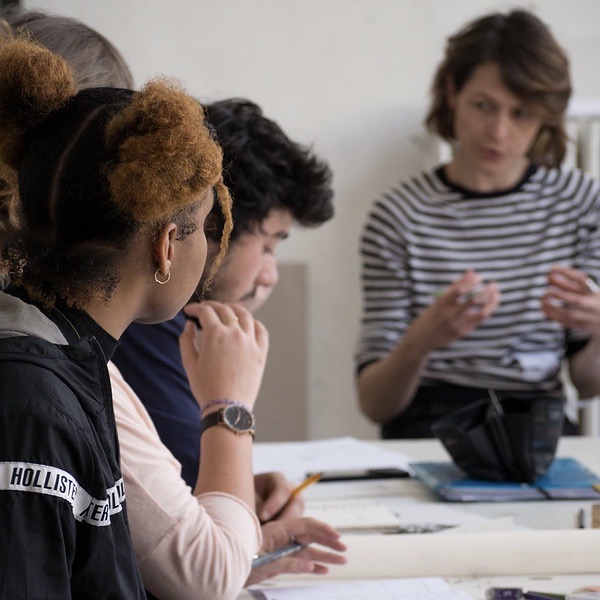 At Orléans School of Art and Design, the international strategy articulates around four axes:
1. Strengthening International Partnerships
Orléans School of Art and Design has 44 partner schools (in 26 different countries) of which 24 have an inter-institutional Erasmus+ agreement. The quality of the partnerships is based on the similitude and correlation of the pedagogy and projects without targeting a particular geographical area. In the coming years, Orléans School of Art and Design will endeavour to make its network of international partners coherent with its school project centred on ecological, technical, digital and political issues.

Orléans School of Art and Design is an active player of the Cumulus association, which brings together 357 design schools and universities over 66 countries. Pluriannual conferences are organized to confront perspectives on pedagogy and research in design. These offer the opportunity to meet our present and future partners for co-operation or mobility projects.
2. Promoting International Mobility And Exchanges
Thanks to international partnerships, Orléans School of Art and Design encourages the geographical mobility of students, personnel and teachers in Europe and third-party countries via the Erasmus+ programme. At every decision level concerning the in-coming and outgoing students, Orléans School of Art and Design strives to guarantee equity, parity and non-discrimination by implementing transparent and inclusive selection plans.

International mobilty allows students to be better prepared for the employment market and meeting other cultures. The mobile teachers are multipliers of mobility, more able to accompany the students in their pedagogical specialization, to open windows on the world. The deep understanding of the course outlines integrating foreign mobility in the training curriculum guarantees the durability of international partnerships. During the coming years, the school will support mixed mobilities by updating the supervision of students.
3. Developing Internationalization at Orléans School of Art and Design
Approximately 10% of the students at Orléans School of Art and Design come from abroad. 50% of non-French- speakers come from China, South Korea, and Latin America and have been enrolled through the Degree Equivalency Committee or the entrance exam. The other 50% of non-French-speakers are students hosted in the framework of our bilateral agreements with Erasmus+ or outside Europe (BCI for Québec, or bilateral partnerships with Brazil, India, China, Israel, the USA, etc.). Orleans School of Art and Design has compulsory language lessons in all of its course programmes. Our goal is to reach 15% (minimum) international students in the four years to come.

Regarding the teaching of English, many teachers are capable of adapting their words into English for exchange students, even if the language of classes is in French, except for the teaching completely in English. Orléans School of Art and Design has a pool of bilingual teachers, including Polish, German, Italian, and Hungarian. These complementary linguistic skills✨ strongly contribute to the integration of incoming exchange students and/or personnel.
4. Building International Projects In Art And Design
Regarding international co-operation, we host foreign, artist and designer workshops, in particular, during our "International Week" held since 2018. It is the opportunity to welcome foreign participants, allowing students to become familiar with the pedagogy of the schools they could visit.

In addition to regular and ad hoc meetings, during the seminars or exhibitions, we regularly visit our European partners, for student follow-up, the organization of mobility, the contents of courses or workshops.

For the coming six years, Orléans School of Art and Design is making the development of research its top priority. It has a research unit (ECOLAB) structured by four research programmes. In the coming years, Orléans School of Art and Design will develop partnerships with international schools and universities according to the orientations and needs of its research programmes. Orléans School of Art and Design will, in particular, undertake a project for innovative, international, co-operation, mixing schools and universities, on the axes of its research. The exchange of international research teachers is already in its strategy for the development of research. It could also lean on the STUDIUM organization, linked to the university of Orléans, who organize this type of exchange, instead of organizing these exchanges itself in the framework of the Erasmus + programme.
Contact
Marion Quintin
Erasmus+ coordinator
Erasmus code: F ORLEANS13
OID code : E10081223